FIRST PATCH
Since the game's release we have been monitoring bug reports and have prepped a series of fixes in response to these. After the Easter break we will complete the testing of these fixes and release a first Patch. This will contain the fixes listed below:
Prevent unfeasibly short leaderboard entries
Fix for 2 Crash bugs, 1 in the menus on Xbox and 1 in game on all platforms
Prevent AI shooting past the player at super sonic speed
Prevent AI speed not being capped when you're in Takedown Camera (hence why they speed past you)
Ensure Aftertouch Takedowns give you the advantage they should (not reset at back)
Ensure laps always register on Hypercar Heatwave event on Desert Marathon
Stop AI always crashing at start of Island Lighthouse track
Minimise player getting reset being persistent wrecks after a Crash
Ensure it is possible to get Platinum medal on Formula DD Survival Event
Exact timing will depend on submission through Sony and Microsoft. We currently estimate the patch will be live during the week of April 29th.
After Easter we will also publish a roadmap of other updates and fixes, including fixes for bad collisions and the addition of 6 player online play.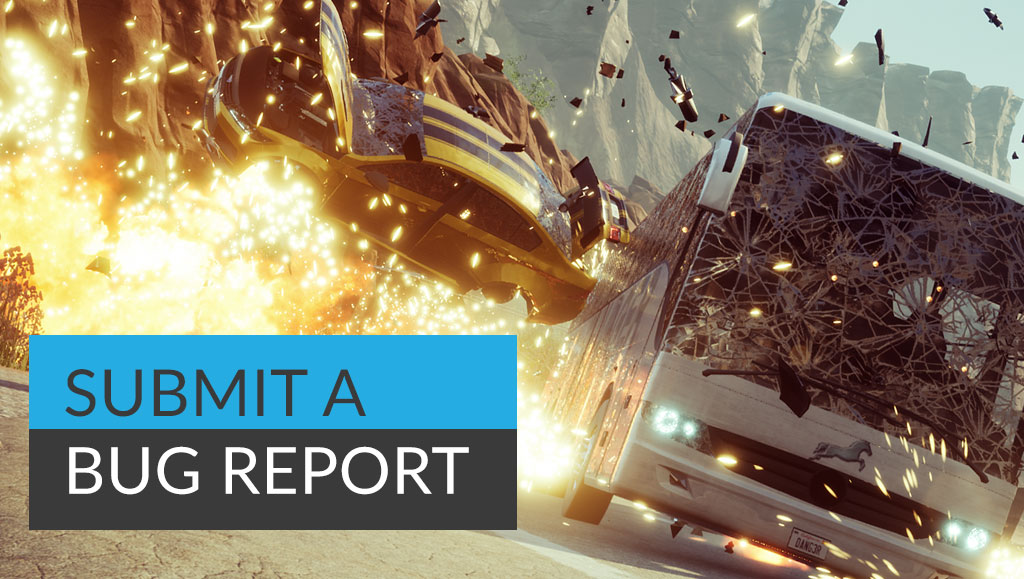 "I've found a bug"
"I've got a Feature Request"
"When is Online Racing coming"
"Where is Crash mode"
Answering your questions is really important to us. However we're a small team of just 7 people and we've received more messages in the last week than we could ever answer individually.  On this page we will maintain a list of frequently asked questions and known issues. This is the best place to find out the most up to date information on Dangerous Driving and get your questions answered. Please check back regularly as we are updating it on a daily basis.
We have prioritised the issues reported by the most players and will be releasing a first patch very soon (see panel on the left). Thank you to everyone who sent in bug reports and videos. Whilst these bugs are far from ideal they do not happen for everyone and that's why we needed the help of the wider community to track them down.
The Known Issues below are the other issues we are continuing to look into.
After Easter we will release a roadmap of updates, just like we did on Danger Zone 2 which we supported for a full 6 months post launch.
Other Known Issues
Collision Issues –there are cases where the player's car should crash (because they hit something at 200 mph+) and they're not – leading to bad physics reactions such as the player getting spun 360 degrees or other bad collisions. We expect to have a fix for this soon – check back for more info after Easter.
Getting stuck in an infinite loop with the car respawning and crashing – this is because you have been reset outside the race track. We are in the process of implementing a more elegant solution.
Frame rate stutters in the Point to Point Tunnels

​ –

in the

 9 Point to Point course we join 2 and sometimes 3 completely separate locations together.  When we load in a new level we do it in a tunnel whilst the player is travelling at speeds often in excess of 200mph. As a result a brief 1 second stutter may occur.  We are continuing to look at whether it is possible to eradicate the stutter.

Xbox One Disk Version auto installs Danger Zone 2, not Dangerous Driving – This occurs on Xbox & appears to have been a problem incurred during manufacturing so unfortunately we have no control over it. The workaround is you must pause the Danger Zone 2 install & then you will be able to install Dangerous Driving.
Pre Order VIP Sedan not unlocking on Xbox – We have heard reports that this may have happened to a few people. If you pre ordered the Xbox digital version and do not have the VIP Sedan please fill in the bug submission form so we can investigate.
"Arrows Point the Wrong way" – we had a debate about this during development – these arrows point the right way for the road, i.e. they are in-world/real life road accessories not race direction markers.
Struggling to drift on PC using the WASD keyboard controls – we are looking into this but advice from one reddit user: "I found that using W for acceleration space for boost and left,right keys for turning and down arrow for brake works perfectly"
Leaderboards not updating on PS4 – Sometimes it can take Sony's servers around 10-20 minutes to update. Check back again later and you should see it has updated.
Traffic driving both ways on the split road sections – the crazy fools!
Pausing the game while using the look back camera – after resuming the game, the rear camera locks (you have to manually change it back)
If you're seeing an issue not on this list please submit a bug report HERE and we will take a look. Thank you.