THE ROAD AHEAD FOR DANGEROUS DRIVING
Our next 3 updates are detailed below. More details will be added as we get close to the release dates.
"THIRD PARTY, FIRE & THEFT"
Estimated May 31st
This update adds 6 player online racing Version 1.
Look for a blog post soon with everything you need to know about this exciting new addition! 
Also included in this update:
Ability to raise the camera on the right stick

Save player's last paint choice per car

Increase the amount of Boost earnt from Air

Add HUD scaling on PC to fix issues reported with running the game at different resolutions

Fix Xbox One Leaderboards 'Top' filter never loading on the Results screen
"FULLY COMP"
Estimated June 7th
This update will reduce the likelihood of the player car experiencing bad collisions such as intersecting the road, being launched into the air, spawned facing the wrong way after a collision and being spun around by /getting stuck in barriers.
Also included:
Fix an issue at the U turn on the Hypercar Class Shakedown event where players get stuck in a crash/respawn /crash loop

Add ability to go backwards though paint choices in car select

Save Sensitivity options – currently resets each time you relaunch the game
"VOLUNTARY EXCESS"
Estimated end June
This update adds more online features and includes an engine upgrade to improve Performance.
Online Racing Version 2

Online Road Rage

Priority Fixes

Flip the real world road signs per track so they always point the right way for the player

Upgrade to Unreal Engine 4.22 which we believe will improve load times, reduce stutter in the Point to Point tunnels and improve overall rendering performance. 

Other fixes TBC. See the Known Issues list for what we are currently investigating.
As is the nature of any software development this roadmap is subject to change – either because of new issues that might emerge or because of the timing of the Certification processes on PlayStation and Xbox One which can delay the Updates arriving to you.
What we can guarantee is that we will be transparent in our communication. Check back for regular updates.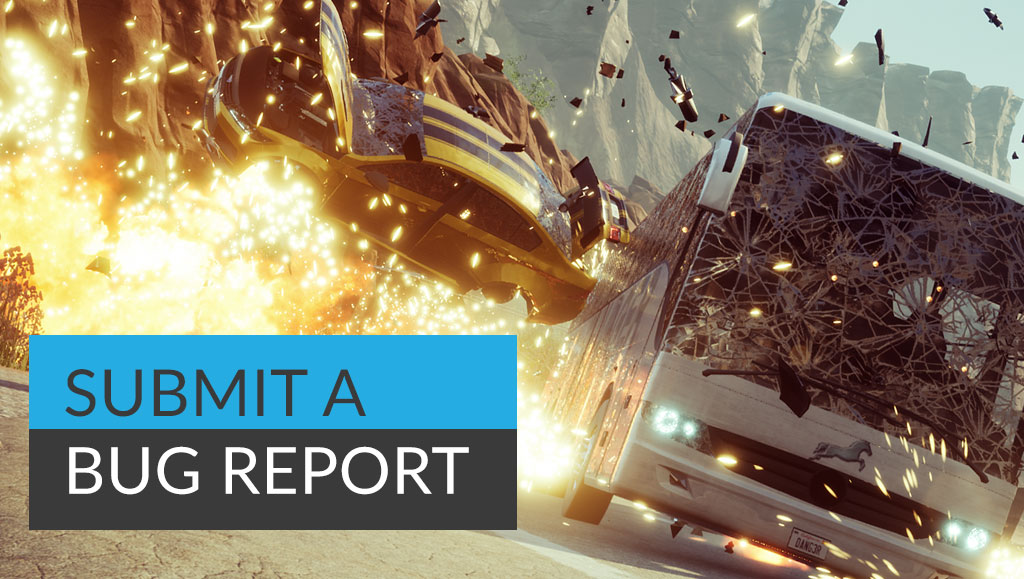 "I've found a bug"
"I've got a Feature Request"
"When is Online Racing coming"
"Where is Crash mode"
Whatever your question you've come to the right place. Answering your questions is really important to us.
On this page you will find:
Our roadmap for the next few months

A list of frequently asked questions

A list of Known Issues that we are currently investigating
Videogames are highly complex pieces of software engineering with many many processes all happening at the same time. In our game, our cars are travelling at over 200 mph alongside other computer controlled racers and traffic travelling of varying speeds. Given all these moving parts and the different play styles of players of a wide range of skill and abilities, it's quite normal for one player to see a bug multiple times and for another to never experience it at all.
Since we released Dangerous Driving issues have been reported that we never saw during testing or that we saw once and then were never able to reproduce – as any software professional will tell you if you cannot reproduce a bug it is almost impossible to fix it! It is only with your help that we can first identify and then fix these bugs.
Thank you to all of you in our Dangerous Driving Club and on Reddit who sent us bugs and especially those who filled in a bug report. Please continue to use this method to report issues to us. This is 100% the best way to help us track bugs. If it's been submitted there you can be confident it is now logged in  our system and will be looked at.
If you're submitting a bug relating to collision or other non-100% reproducible issue, then sharing a video with us (the higher the quality the better e.g. an unlisted YT video) is incredibly helpful. Seeing what was happening when the bug occurred is invaluable in us trying to reproduce the problem which is the first step towards finding a fix.
We ARE listening and you can rest assured that the bugs you're reporting into our database are being tracked and investigated.
We are a small team and so a staggered approach is the best way to provide a stable, solid experience for all.
We will continue to update this page regularly so check back for new information.
With thanks from The Three Fields Team
P.S. Check the link below for details of the Update we already released at the end of April
KNOWN ISSUES
Below you will find a list of the most reported Known Issues and their current status. This list is not exhaustive. If a bug you reported is not listed it is likely that it is currently being verified.
[Stability] We are not currently aware of any specific Crash bugs other than those we fixed in the "No Claims Bonus" update released at the end of April. If you experience a game Crash please submit a bug report.
[Performance] Players may experience brief 1 second stutters in the connecting tunnels on the 9 Point to Point tracks on all platforms. This occurs because a new level is being loaded in.  Status: Investigating. We intend to upgrade to the latest Unreal Engine 4.22 as part of the "Voluntary Excess" update mid June. We believe this will reduce the tunnel stutter and will report back once we know the results.
[Disk installation] The first pressing of the Xbox One Disk Version auto installs Danger Zone 2 to begin with, not Dangerous Driving – This appears to have been a problem incurred during the manufacturing process of the disk so unfortunately we have no control over it.  Status: Fixed for later Disks. The workaround for those affected is you must pause the Danger Zone 2 install & then you will be able to install Dangerous Driving.
[Pre Order Bonus] Microsoft have confirmed that a number of customers did not receive the VIP Sedan and a fix is coming from them before end of May. If you did not get the car on PC please submit a bug report remembering to send us the email address registered to your Epic Games account.
[Collision] Cars can be pushed through the ground, into the air or spun around 180 degrees as a result of awkward collisions with another vehicle, the barriers or the road. Occurs on all platforms. Status: Fixes are planned for the "Fully Comp" update coming c May 31st.
[Gameplay] It is possible to get stuck in an infinite loop where your car has crashed, gets reset on the road and then immediately crashes again particularly at the U Turn on the Desert Marathon Hypercar Shakedown event. We have tracked this down to an issue where the game believes the car has been reset outside the race track so tries to reset it again (and again, and again!).  Status: A Fix is planned for the "Fully Comp" update coming c May 31st
[Gameplay] Players have reported that the in-world/real life road accessories are confusing as often the arrows point the wrong way for the race. Status: A Fix is planned for the "Voluntary Excess" update coming mid June.
[Leaderboards] Players have reported that their Leaderboards are not updating on PS4. Status: This has not been verified as a bug. It can take Sony's servers around 10-20 minutes to update. Check back again later and you should see it has updated.
[Leaderboards] On Xbox One the Top filter will never load unless you are in the Top! It does work in the Leaderboards accessed via the Main Menu.  Status: Fixed for "Third Party, Fire & Theft" update coming c May 24th.
[Gameplay] Traffic driving both ways on the split road sections – the crazy fools! Status: Investigating
[UI] Pausing the game while using the look back camera – after resuming the game, the rear camera locks. Status: Investigating
[PC] Various resolution issues have been reported relating to the game launching in a tiny window and the UI not scaling. Status: Fixed for "Third Party, Fire & Theft" update coming c May 24th.
[Gameplay] Road Rage AI stop spawning mid event. Status: Investigating
[Gameplay] Pursuit Mode – instances have been seen on the AI taking each other down, ending the event early. Status: Investigating
[Spotify] We have received some reports of Spotify disconnecting with a 'A Network Error has Occurred' Message. Status: Investigating
If you're seeing an issue not on this list please submit a bug report HERE and we will take a look. Thank you.