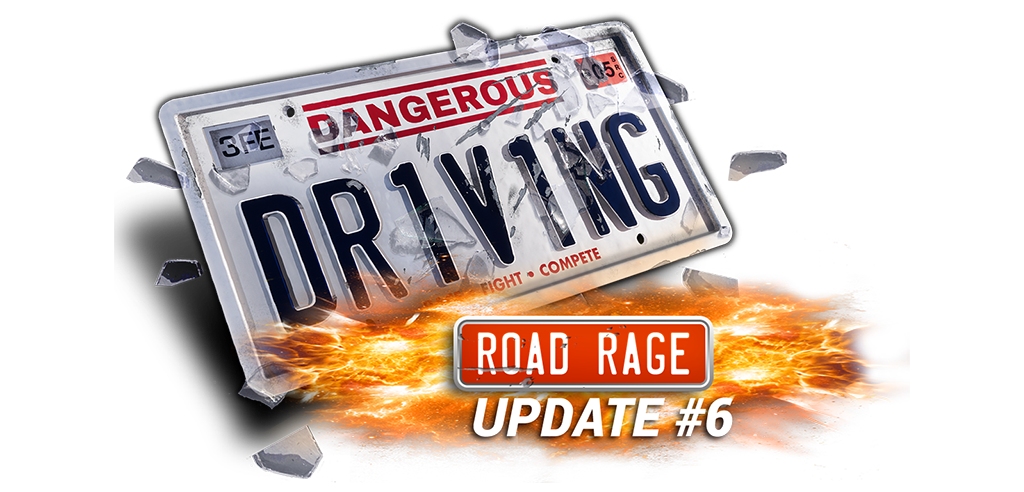 The Road Rage update is now live on all platforms and includes the following changes:
New Mode "Road Rage Online" (see below)
HDR10 support for PlayStation 4, PlayStation 4 Pro, Xbox One S and Xbox One X
Online shunt and slam reactions have been tuned to allow more car to car battling and fighting resulting in reduced incidence of one touch Takedowns
Fixed issue of Rank occasionally not saving correctly at the end of Online Race
Fixed issue of Online Leaderboard occasionally not updating correctly
Fixed issue of Online Events being Ranked as a loss due to host quitting online session
Fixed issue of Lap not counting due to player crashing on Finish Line
Created Option to allow user to select radial blur on or off via the Options Menu
Additional HUD and Frontend improvements
Improvements to the HUD Message system. The number of messages on screen at any time has been reduced. All messages have been re-prioritised to show the most relevant ones
Improvement to the Draw Distance of Headlights of Oncoming Traffic
Road Rage Online
Team up Online for a fight to the finish. The Blue Team races and the Red Team chases across all 7 regions of the game.
The Blue Team must fight off the Red Team and survive to the finish. The Red Team must Takedown all the Blue Team to Eliminate them before they can escape.
In the heat of battle if you are Eliminated you can remain in the fight, run interference against the Red Team and try to help your Team score a Team Win!
And what's better than winning? A Perfect Victory! For the Blue Team you must get yourself and ALL your Teammates safely over the line. For the Red Team you must eliminate the Blue Team WITHOUT being Takendown.
As it's Hell on the Highway and Rough out there on the Road it is easy to lose sight of Team Orders and Takedown your own side. If this happens you will be called out as a Traitor!
Sometimes no one wants to be on the losing Team. If this is you you can now choose to be Rebel and switch Teams after Elimination. If you can't play clean play dirty!
Check out our Your Questions Answered Post for more information and don't forget to subscribe to the Dangerous Driving Club.