Dangerous Driving is a highly competitive arcade racer which features online and offline racing on PlayStation4, Xbox One and PC.
Subscribers to our mailing list have been getting weekly updates for a month now and these have included GIFs showing sneak previews of the action on and offline.
Here is just one of the GIFs we have shared so far – this was our first ever online Takedown which was a real moment of celebration on the team!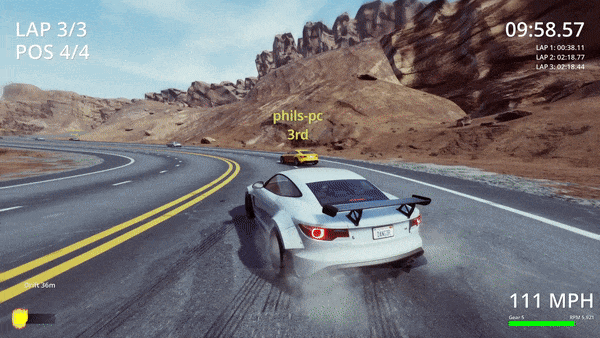 So far our newsletters have covered car handling, AI, tracks and camera and where possible we try and respond to the questions and comments we get.
For example we had been asked on Danger Zone and again on Dangerous Driving if we could give players right stick camera control and we confirmed in last week's newsletter that its now in the game. This week's update (coming later today) talks about the UI, another topic we have been asked about a lot.
Every week there will be a new update and we'll also shortly be sharing videos on our YouTube channel.
To be sure to never miss out sign up to our Dangerous Driving Club here:
Look for a new blog post from Alex over the weekend.
Have a good one.