"Pitstop" – Epyx – Commodore 64 version (1982)
Authentic Commodore 64 racing sim?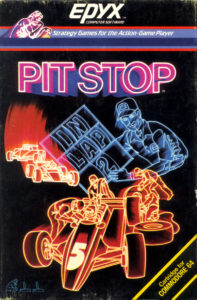 Not every computer games shop in the 80's let you load up a game before deciding to buy it. For most of us, we had to buy games blind. You never quite knew what you were going to get. Would it be any good? What are the graphics like? How long will it keep me busy? Computer games often sold on the strength of the artwork on the front of the cassette box.
And if you didn't quite like it, then tough – you were stuck with it. You could only really take the game back if it was faulty. If you didn't like it there wasn't much you could do.
Most games on sale were programmed in the UK. Overseas titles were thin on the ground back then. Most people tended to play the output supplied by the major UK software houses such as Sheffield's Gremlin Graphics or Alligata. Manchester was the home of Ocean Software. And Jeff Minter's Llamasoft label was run out of his parents house in Basingstoke!
My local computer shop started to get a trickle of games from an as then unknown American company called Epyx. Their games all shared the same striking style of key art for the boxes. Once again, it was the cool artwork on the box that drew me to "Pitstop" from Epyx on the Commodore 64.
Still hankering after a decent version of  Atari "Pole Position" I took a chance on this game.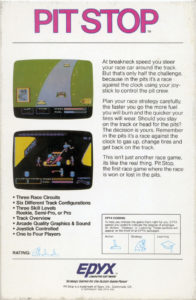 Pitstop or Bus Stop?
The back of the box showed that the game was all about the pit stop sequence. This was the first game I'd heard of that featured something like this. So I was immediately all in.  A full 3D driving simulation with all the tracks and all the cars was just what I was looking for. And I'd upgraded from the little VIC-20 to the mighty silvery Commodore 64, complete with floppy disk drive and printer. I was all ready for true Virtual Reality at this point!
Turned out that "Pitstop" wasn't quite the 'arcade perfect' or 'arcade better' version of "Pole Position" I was dreaming of, but it was pretty good, especially the tyre change sequence.
It was a driving game with a thin veneer of depth put into it. It was the beginning of a brief dalliance for me with the world of strategy type games that were starting to appear on the market at the time. But I was still hankering after a better driving experience on Commodore's machine.
Whilst you're here, if you haven't already please consider signing up our Dangerous Driving Club. 
See you next week for Part 5.