"Star Rider" – Williams – (1983) – Arcade
Star Rider? Riding Into The Future?
This game will always hold a very special place in my heart. I only played it once but it had such a powerful effect on me I spent many hours afterwards thinking about it. In many ways, it was a truly inspirational game. It looked, played and sounded, like nothing else I had ever seen at the time.
Scarred For Life in Scarborough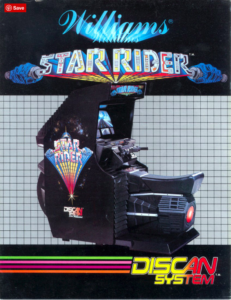 I discovered this game in a crowded arcade in the North Eastern town of Scarborough in England. For starters, the cabinet is pretty striking. Some sort of futuristic motorbike game, with proper handlebars on the cabinet. "Return of the Jedi" came out that year and the speeder bike chase was everyone's favourite movie scene. This game looked like it offered something like that.
Best Visuals Ever?
I think I can safely say that this game had the best graphics and sound I'd ever seen and heard. They were out of this world, literally. It wasn't until I tracked down a copy of "Big K" magazine a month or so later that I learned more about this amazing game I'd played. The game was one of a few revolutionary LaserDisc powered arcade games that had started to appear in British arcades. They were usually 50p to play and often had a second TV placed on top of the machine so that the watching crowd had a better view of the action. To suddenly go from playing "Pac Man" one meeting and then walking around the corner and seeing someone playing "Dragon's Lair", "Space Ace" or "Firefox" was completely mind blowing.
Laser Powered
Here's some footage showing the raw LaserDisc footage. It shows the visual quality of the tracks. But not the game running on top. https://www.youtube.com/watch?v=m7z25MrF1hk
Crowd Goes Wild!
I'd never heard of "Star Rider" and it was tucked away in the back of the arcade. It was a fast bike race where the game was overlaid over a movie playing on a LaserDisc behind it. I had no idea anything like this was possible. I blew all the money I had on me that afternoon into that machine. It was the first game I'd played that had incredible audio quality built into the machine. It was also the first game that had a cheering crowd whenever you crossed the start/finish line. Little touches like this were incredibly rare and showed that game designers were really starting to use better technology to really enhance the player experience.
Here's some rough quality off-screen capture of one of the few remaining cabinets in action. It's a bit VHS quality but it gives some sort of idea as to how the game looked in action: https://www.youtube.com/watch?v=ecVcA3l6v3E
The Truth Is Out There
It wasn't until the advent of YouTube that I could actually see more footage of the game, and watch the disc being played through from start to finish. I also read that the machines were notoriously unreliable in arcade locations, with sand often blowing into the cabinet and knackering the LaserDisc player inside. I only know of one working machine in the UK. And I've seen it, in truly mint condition. But as to where it is? Now, that would be telling…
Whilst you're here, if you haven't already please consider signing up to our Dangerous Driving Club. 
See you next week for Part 10.