Tatsumi's "Buggy Boy" – a three-screen coin-op driving dream?
The Greatest Year of All?
1986 was one of the greatest years of my life. There was just so much to like. At the Cinema there was "Top Gun", "Aliens", and "Crocodile Dundee". In the charts we had "West End Girls" from Pet Shop Boys. There was "Sledgehammer" from Peter Gabriel. The Bangles hit Number One with "Walk Like An Egyptian."
(We also had "Just Say No" from the cast of 'Grange Hill' and "Snooker Loopy" by Chas and Dave. Many of us have learned to block those memories out by now though.)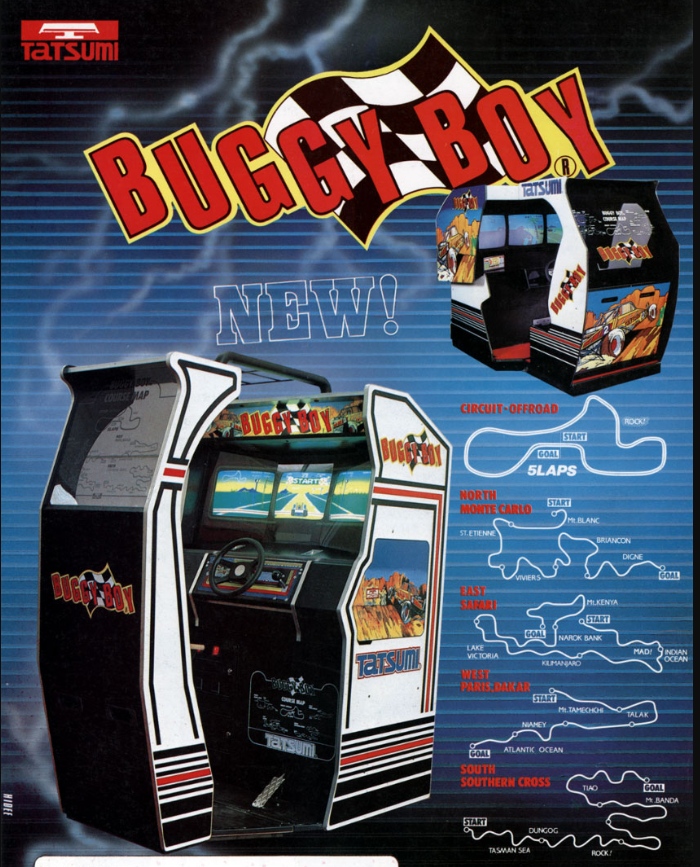 Bus Stop
There was a small arcade opposite the Bus Station in my hometown and it was in there before the Cinema one night in 1986 that I got to play "Buggy Boy" for the first time. It was made by Tatsumi, who'd also made "TX-1" and licensed it to Atari. You can read about how I feel about TX-1 here. It was also another three-screen cabinet game which really made it stand out. As you know, I'm partial to some nice key art to set me up for game, but I must confess that with this game, I just loved the name. It's cool and it made me want to play the game!
Cute Character
Driving a dune buggy is also a cool concept for a videogame such as "Buggy Boy" and what this game lacked in real physical simulation it made up for in spades with its cute character and simple addictive driving gameplay. You had to race around a series of courses, avoiding obstacles like gates or logs and you could hit ramps and jump over streams along the way.

Tunnel Vision introduced by Atari
Those tunnels I first saw in "TX-1" were back as well.  "Buggy Boy" oozed style, playability and class. You could collect coloured Flags in order to earn a Bonus, there were occasional bits of banked course to drive up onto, you could pop the Buggy onto two wheels for a bit and bizarrely, you had to hit a Bonus Football with the car to every now and then to earn more Bonus Score. It's touches like this that you just don't see anymore with the much more sober games you find today.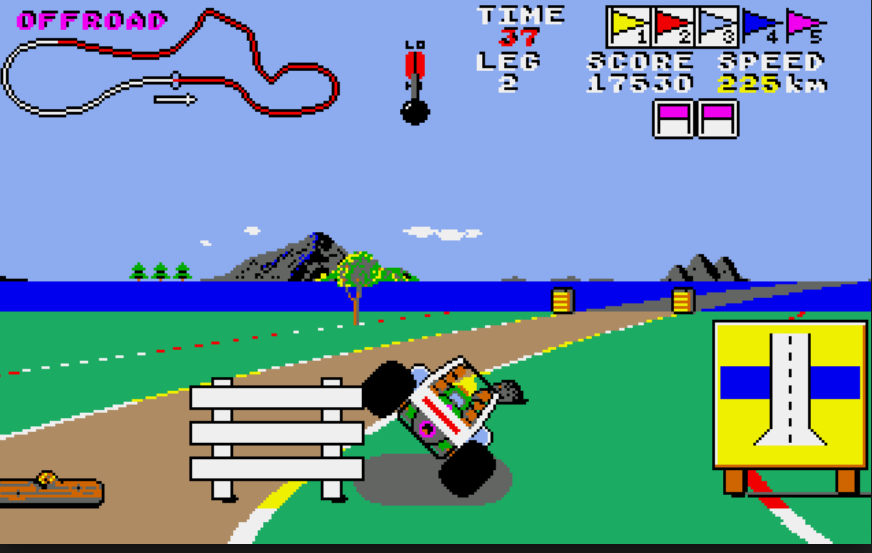 I was spoilt for choice that night as next to the machine was a brand new "Back To The Future" pinball so both machines did their very best to drain me of all coins that I had on my person at the time.
Buggy Boy – Ported And Sorted?
The following year Midlands developer Elite Systems brought Buggy Boy to home computers. I'd looked forward to the conversion all year and picked it up on day of release. The guys at Zzap64! gave it a great review in their December issue and it certainly didn't disappoint. Somehow the Tatsumi coin-op had been perfectly squeezed into the C64. Sure, it didn't have the exact same visuals as the arcade version, nor did it have the bright summery colours found in the coin-op version, but the gameplay and sense of speed was fantastic. It was one of the last games I was to buy for my C64 and I'd already set eyes on a new piece of hardware, a grey console coming from a Japanese company called Nintendo. It was still a few months before the NES was to launch over here.
A Tramiel-Tastic Conversion from Elite Systems
In conclusion, I can't finish this one off without mentioning the astonishing Atari ST version of "Buggy Boy "that Elite later released. My friend Matt got it for the 16-bit Atari ST and it was one of those dawning realisations that we were now going to be playing true arcade quality games at home. He was not being too happy that I was able to finish nearly all of the Stages except one on my very first play! (It was "East" that held me back if you must know!)
If you find it on MAME take a look, but it will never quite be the same unless you're sat in that big cabinet with the steering wheel and three screens ahead of you!