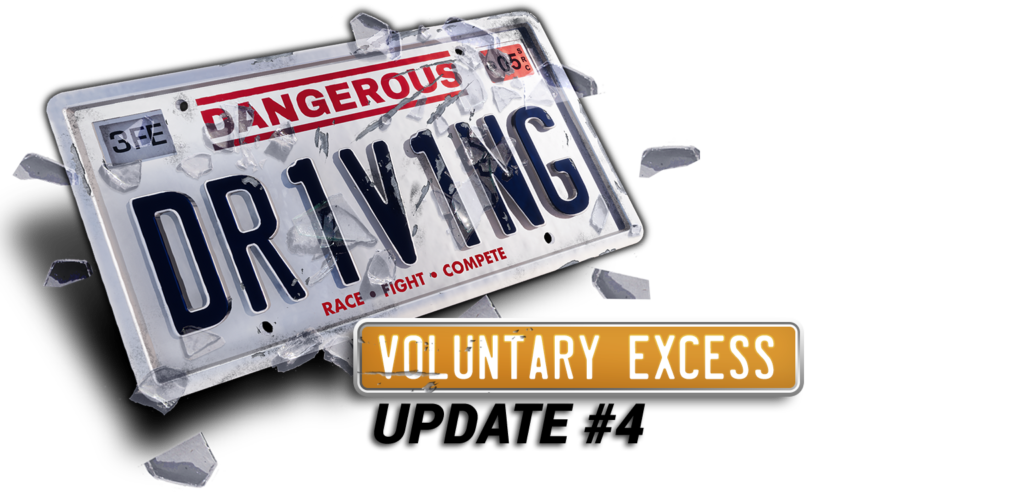 This patch for Dangerous Driving  is now live on all platforms and includes a lot of online improvements and fixes as well as a few other bug fixes.
Here is the full list:
Host can choose any car / any track combination and set the number of laps
Ensure players are invulnerable when resetting after a crash (to avoid crashing again immediately)
Add ahead/behind distances to the in-game HUD
Further improvements to finding games to make it easier for players to get into game, add 'browse games' option on console, extend browse games to include games in progress
Handling – Improve landing from air to lessen the chances of your car ending up facing the wrong direction
Lobby graphics given an overhaul
All cars by default can carry more boost

Xbox Live : Add presence text for in lobby and in online game

Bug Fixes – primarily to Pursuit Mode
Making games is a fun yet highly complex process and Dangerous Driving is certainly a compex game to make. No game is perfect, they never can be. Or at least, they would never ever get released. But here are the latest fixes and improvements to the game. Be sure to let us know if you experience any problems. We love to get feedback from our Players. Without your support, we would not have this wonderful opportunity to make videogames. Arcade racing games have been our passion for over twenty years and we'd love to continue making them. As you're here, hopefully you feel the same way as we do!
We will be publishing details of the next Dangerous Driving  update very soon. Check back or sign up to our Dangerous Driving Club HERE. You know it's the right thing to do. In fact, we think you'll be unsure of what path to take in life until you do. So sign up today, we'll work hard to make it worth your while.