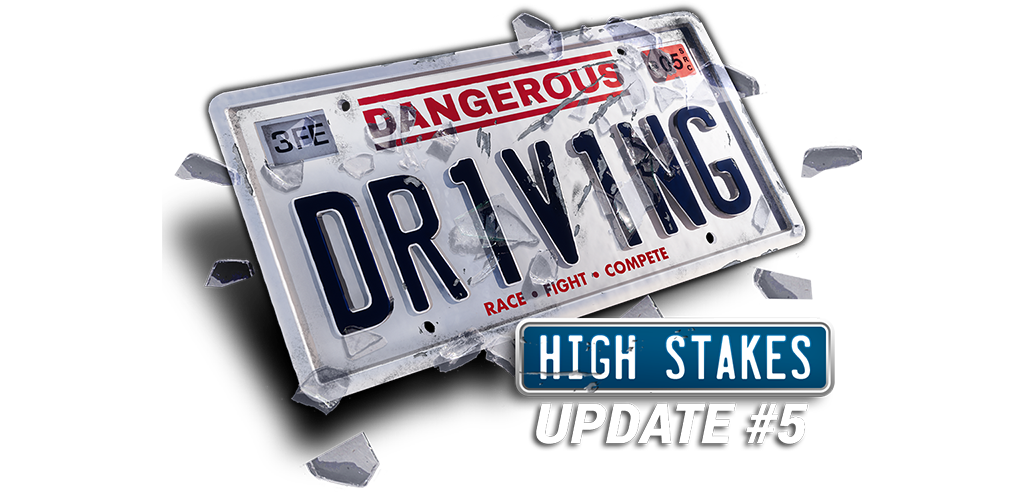 High Stakes is the latest Dangerous Driving Update and is now live on all platforms and includes the following changes:
New Elo Ranking system online (see below)

Vertical Takedowns

Added Twin Ferry Lakes tracks to the online track options

Leaderboards can now be scrolled up and down

Increase leaderboard rows displayed from 7 to 10

Track online races played and completed and display stats in the lobby

Formula DD tyres now spin at the correct speed

Added track logos to the loading screens

Fixed frame pacing. This leads to smoother 30Hz play and reduced input latency

Fixed priorities on HUD messages including traffic takedowns and online takedowns

Fixed the background movie pausing
New "High Stakes" ELO Ranking system
We have changed the ranking system in the High Stakes Dangerous Driving update.  The previous ranking system used Dangerous Driving Points. You would earn one DDPoint for finishing the race and one DDPoint for each player beaten.
We have moved away from this and we have a brand new ranking system that takes into account player skill.
Why have we changed it?
There were several features we didn't like in the DDPoint ranking system.  It was difficult to catch a player that had more DDPoints. If you played against a higher ranking player and won you would only close the gap by a single DDPoint.
Secondly, lower rank players were unfairly punished as the rewards for winning or losing were the same no matter how skilled the other players were.
Finally, the old system encouraged players to play shorter events.  The quickest way to increase your DDPoints was to play the Island Lighthouse over and over again. We have aim to fix this with the High Stakes Update.
What does it mean for you?
When you next go online after downloading the High Stakes Update for Dangerous Driving you will find your rank has changed and will be somewhere between 1200 and 2500.
We have calculated your initial rank from your existing DDPoints. Players who haven't played online before will start with a rank of 1200. Players who have earnt a lot of DDPoints from playing before the update will start closer to 2500.
After each race we compare you against every other player in the race.  You will earn some points for every player you beat and you will lose some points for every player that beats you.  The number of points you win or lose depends on how skilled the other player is. However, if you beat a player that's a higher rank than you, you will earn more points. When you beat a player that is a lower rank than you, you will still earn points but less.  If the other players rank is much lower than yours, you won't earn any points.
On top of this, the number of points you win or lose is also determined by the length of the race.  Longer races mean you will win or lose more points.
One important thing to note here is that this is a ranking system so it's possible for you rank to go down as well as up.  Indeed some players will find they start at 1200 and go down if they keep losing. This isn't a bad thing, the game is just figuring out your skill level.  You will find that after a few games your rank will stop dropping even if you lose and when you start winning you will gain more points as you are a lower rank.
Let us know what you think of the High Stakes Update! Get in touch!
Check out our Your Questions Answered Post for more information and don't forget to subscribe to the Dangerous Driving Club.