The 3D Race is on
It's the 25th Anniversary of Sony PlayStation. Twenty five years ago this month the first machine launched in Japan. It would not arrive on these shores until Autumn of the following year. In the UK, magazines such as "EDGE" from Future Publishing covered the development of the machine and then gave monthly updates all of the games being released in Japan and those being developed at home.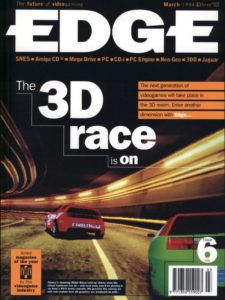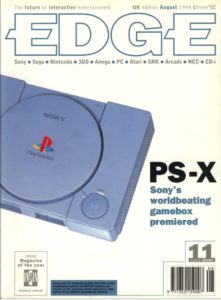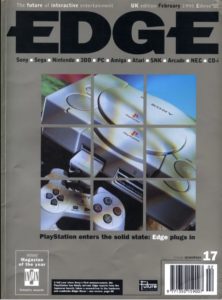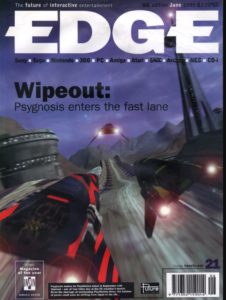 These covers and the articles inside really helped to generate massive excitement ahead of the forthcoming 1996 launch!
In the beginning of 1996 I got my first job in the games industry – after applying to pretty much every job advertised in the back of EDGE Magazine! I took a job at Birmingham based US Gold Limited. One of the guys there had bought one of the first Japanese PlayStations from one of the many importers around at the time. These firms were able to make a killing by bringing in games and hardware from Japan and then charging stupid prices for them.  This guy had paid over £600 for the machine and then three games each at £60 each. Those games were "Ridge Racer", "Toshinden" and "Cyber Sled."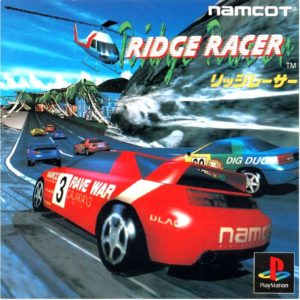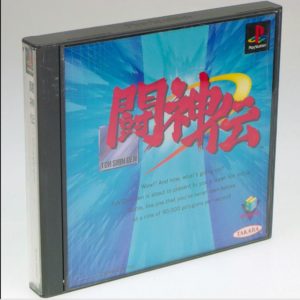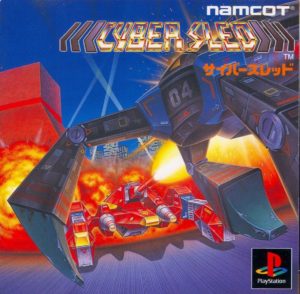 Perfectly formed
I remember being really impressed by everything about the Sony machine – but not the extortionate import prices. I always preferred the Japanese retail packaging. It was a simple cardboard box and I thought this was nicer than the eventual US and UK retail packaging. If you were in the industry at the time, pretty much everything to with PlayStation was lapped up  – from talking about how good the controller was to how lovely the Memory Cards were. And that's before ardent discussion about which song was the best in "Ridge Racer!"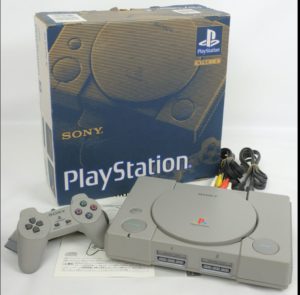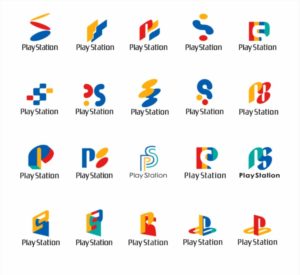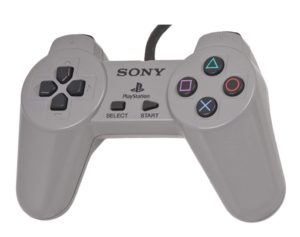 The prices were far too steep, and the entry level salaries in the industry were far too low for me to consider dropping six hundred pounds on a Japanese machine. I decided to wait instead for the eventual release in the UK.
Acclaim To Fame
Later that year I moved down to London and took a job working in the London office of New York based publisher Acclaim Entertainment.
The office had a prestigious London address, and was located directly opposite Harrods department store in Knightsbridge. (I used to pop in there pretty much every day to listen to CD's up on the 4th floor music department and saw Princess Diana a couple of times on her way to lunch at her favourite restaurant around the corner! I did a double take as she walked past me the first time – and then was pretty much knocked to the ground by a group of photographers in hot pursuit!)
The next time I saw the PlayStation in action was right before the ECTS show began in August of that year. We had a Japanese retail machine in the office, but only a couple of the launch games to play. As the US launch approached, we were started to receive discs from New York via Fed-Ex of some titles that Acclaim had licensed from the Japanese publishers it worked with closely. Taito was one of those companies so we had stuff like the latest "Darius" side scroller and a couple of pseudo 3D shooters as well.
Conversion King
One day Fergus McGovern popped into the office. Fergus was the head of Croydon-based Probe Entertainment and Acclaim had just purchased his company outright to the tune of £60m. He went on to appear in The Sunday Times "Rich List" soon afterwards!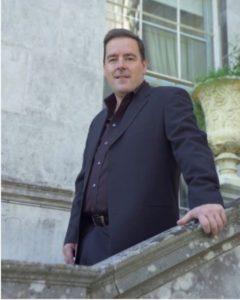 Under his coat (it was raining that day) Fergus was carrying the first blue 'debug PlayStation' we'd ever seen. It was shiny and new and suddenly both me and Chris (Hadley) both wanted one! The blue machine played pre-production discs and was also multi region so we definitely wanted one!
This turned out to be a day I'll never forget. And it's why I'm writing about this today for you now.
One Of The Good Guys
I must add at this point that Fergus is no longer with us. He died suddenly a few years ago. Anyone who met him or worked with him will doubtless have many stories that they could share about him – both the good and the bad – and most are pretty funny.
I remember him with fondness – because at that time me and Chris were the most junior guys in the company and Fergus always took extra time to come and spend time with us, and talked to us and listened to our opinions. He was a kind man and I had a lot of good times with him! (Remind me to write about the time we both met George Lucas, Chewbacca and Michael Schumacher another time!)
This time it's War!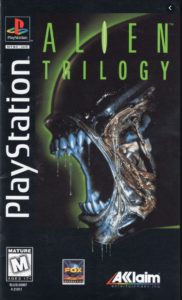 The first thing Fergus showed us on the blue debug machine was the latest build from Probe's first PlayStation release – "Alien Trilogy."
(It's hard not to write out the title of the game without writing "TRI-OL-OLOGY" because for some reason it's a title that some people struggle to pronounce. We used to answer the phones of people ringing up to ask for help and nine times out of ten it would be "Alien Tri-Ol-Ology" they would be asking about!!)
The first thing we saw was an amazing rendered intro to the game. The motion capture for this intro had been done at Acclaim's office in New York and at the time they had a world leading motion capture setup. We were blown away!
Then came the fantastic CD quality score to the game, done by Probe's own Steve Root. It's a brilliant score, and I think it still stands up to this day. If you're not familiar with it, I highly recommend it, particularly if you are a fan of the original movie score.
Anytime. Anywhere. Any Place.
This build of the game had the first two levels of the game on it. But to be honest we just kept playing the first minute or so over and over again. We marvelled at the visual quality, and how amazing the sound effects were. You may not have thought several people could be so entertained by picking up a shotgun and shooting a red barrel, but trust me, this was ground breaking stuff at the time.
Shock Value
The console wasn't out yet and there was a genuine wave of excitement running through the office as the UK office staff came to see the game. We were all ecstactic. The big ECTS show was a week or so away and "Tri-Ol-Ology"" was going to be one of the big games for us to show. Most of the office came by and we had the game running on a big 46inch rear projection TV. Everything looked good on that TV and it ensured that games made an impact. If you're celebrating the 25th Anniversary of the Sony PlayStation yourself, then it's worth going back to take a look at the game.
Welcome To The Party, Pal!
After the excitement had died down a little and people drifted away, Fergus was handed a coffee and we sat and talked games for a bit. We talked about what Sega was doing with the Saturn and what games we'd been playing on that.  But then he reached inside his jacket pocket and pulled out another CD case. Inside was a gold CD with "DH" scrawled on it in big black marker pen.
"I thought you guys might like to see this other game we're working on as well…." said Fergus, lifting the PlayStation lid and carefully placing the disc into position.
"This isn't for Acclaim, it's being done for Fox, but once it's done the guy will be starting a new game for Acclaim."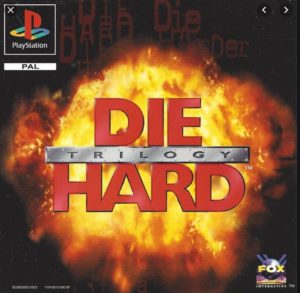 We saw the Fox Interactive logo fill the screen and then got our first look at "Die Hard Trilogy" which was still in development. This was suddenly turning into the most exciting day I'd ever had at work. He told us the game was split into three separate games, each based on a key part from each of the thee movies in the "Tri-Ol-Ology" (see? it's hard to stop once you start…)
Now I Have A Machine Gun!
The first one was a third person 3D game set in Nakatomi Plaza. It played a little like "Virtua Cop" which had just come out despite being having a third person view. We'd never seen a 3D game like this and were particularly impressed by the gameplay of being able to 'see' through walls and detect where the enemies were next appearing from. Again, it's not much when you look at it now, but at the time, this was amazing. Plus we'd never seen a game like it which was three games in one. Most licensed games were rubbish, and the irony really wasn't lost on either of us in that office at the time.
The Fly In The Ointment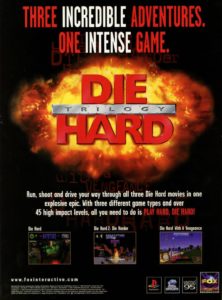 The second level really was a "Virtua Cop" game. The game supported a third party lightgun but Fergus didn't have one with him. Instead, he played the "Dulles Airport" level with the pad. The intro was amazing, and once again we loved Steve Root's original audio score to this level. This game really seemed to have everything – fantastic 3D graphics, amazing CD quality music and brilliant gameplay.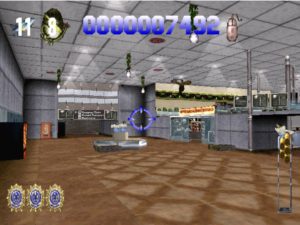 (I must admit that at this point, overcome with excitement I did offer to kiss the feet of Mr.McGovern. Luckily he did not take me up on it.)
The Monkey In The Wrench
He finished with a glimpse of the third level, a 3D driving game set in the streets of New York. It's a brilliant sequence in the movie and here it was, onscreen running on the PlayStation!
(It wasn't just us that were impressed, the game went on to become a huge hit.)
It was such a brilliant afternoon. We spent a good hour or so trying each of the levels before Fergus had to go back to Croydon, sadly taking the "Die Hard" build with him. Luckily, he left the "Alien" disc so we had that to look forward to playing the next day.
Fighting Talk
Then he left us with a 'one more thing…' moment.
"You know…we've got another big game for the launch, we just signed it last week in Japan" he said as he was putting his coat on.
"Really?" – news of PlayStation stuff coming down the pipe was news to us.
"It's Street Fighter from Capcom! It should be here on Monday, let me know what you think of it. See you!" and then he was off.
"Street Fighter? Surely you're joking?!?" said an exasperated Chris Hadley.
"Yes, it's a new game based on the film that's about to come out.." and he walked off down the other end of the office.
We were really freaking out at that point. Street Fighter! Coming next week! For us to play. And Acclaim was publishing it!
This was great great news. Surely we'd be cleaning up on launch day?
So, that's my story to celebrate the 25th Anniversary of the Sony PlayStation
(Footnote – the SF game wasn't the 2D fighting classic we all know and love. It wasn't great and was called "Street Fighter: The Movie." But hey, that day we were all on Cloud Nine!)