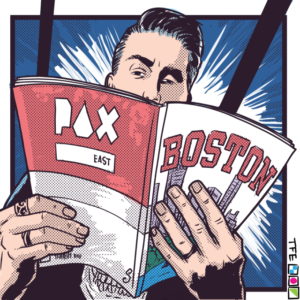 Making your way in the world today takes everything you've got.
The gaming convention that is Boston's PAX East 2020 is coming! In fact it's happening in 46 days time! And we'll be returning to Boston for the second time to exhibit at the event!
We spent time yesterday booking airline tickets and trying to sort out our hotel reservations for the show. It feels like I was at the last show just a few weeks ago. For those of you in Europe, you might know what an important games convention this is. PAX East Boston spun out of the Penny Arcade web comic and got going in 2004. There are now multiple conventions held in various locations around the United States. There's also a PAX that happens Down Under in Melbourne, Australia.
Exhibitionism
I've been going to games shows a bit like PAX East Boston since I was fourteen years old. I went to some of the early Commodore Shows in the UK in the mid-Eighties. It was rare to see game running in shops back them. So to be able to go to one place and see a wide variety of games running on all the different formats was an amazing experience. Fast forward just over a decade later and I was in the games industry and going to shows as an Exhibitor.
The big show in Europe back in the 1990's was ECTS – which was the European Computer Trade Show. It was held at Olympia in London – a place which was somehow difficult to get to however you tried to get there. And it was held not once but twice a year, in the Spring and in the Autumn. It's interesting to note that at that time there were so many games being released and so many software developers and software Publishers that ECTS happened twice a year.
Three's Company
The main US show back then was CES every January – the Consumer Electronics Show, which is just coming to a close this week in Las Vegas. It's much more of a tech show these days, but back then it was THE event of the year for the US games industry. But it was three shows in one – it was a tech show, a games industry show AND it was the event for the adult film industry in the US. The big games companies didn't like that, so a new show – focused solely on the games trade, called E3  – Electronic Entertainment Expo – began in LA in May 1995.
The rise of E3 ultimately sounded the death knell for the ECTS Shows. With the US show moving to May – big games premiered there and not at Spring ECTS. The European shows were purely a vehicle for physical media retailers to take another look at games they had already ordered at the January CES event. There was still time to either order more or cancel altogether depending on how the games were shaping up. As E3 got bigger and games moved from expensive ROM cartridges to CD's ECTS would lose its' reason to exist.
Society Against PlayStation
The first ECTS I worked was in September 1995. I had just joined the European HQ of Acclaim Entertainment based in London. Despite the fact that later that month Sony were launching PlayStation, our big game for the 1995 ECTS was "Batman Forever"  and "Mortal Kombat 3"for SNES and Megadrive (that's Genesis for all you US readers!). But we also had three games on show for the about-to-be-released Sony machine. The company had a big stand, with the best position front and centre right in front of the main entrance. You could even wipe your shoes on the company logo as you came in. We paid a premium to have a special doormat made by the main doors!
Below is a side on photograph I took just before the show opened. It's a poor quality photo because, well, most snaps were back then. I had to post my film away to get the photos developed. ( Note to all 'non-old' readers – this was actually something you had to do!) The games on show were "NBA Jam" by Iguana for PlayStation, a vampire cinematic game called "D's Dining Table" from Warp and Kenji Eno for Sega Saturn, then Probe's  "Alien Trilogy" for PlayStation, and then Capcom's "Street Fighter: The Movie" for PlayStation.
Floored!
We also had the actual Batmobile from the movie "Batman Forever" for the show, on loan exclusively from Warner Brothers. I was the point person for the company as the car was delivered at Olympia and pushed by hand into the exhibition centre. It came with its own security guard. As it was a one of a kind prop it had a ridiculous insurance premium to match. It has been used in London that very week. It was driven by UK Williams F1 driver Damon Hill to open the big Sale at the Harrods Department Store in Knightsbridge with actor Chris O'Donnell from the movie. That shop was directly opposite what used to be the Acclaim London HQ. The car itself was made of polished matte fibre glass and had very very long fins extending from the back of the car. It had a small Mini engine and the flame effect was created by one of those burners you see supplying fire inside hot air balloons.
The car was slowly and carefully pushed by about eight of us about fifty painstakingly slow metres from the loading bay at the back the Hall all the way down to the Acclaim stand at the front. Unfortunately for us, the flooring of the stand was raised off the ground level ever so slightly. That thing weighed a ton or so so trying to lift the front or back end over a small kerb was impossible. One of the crew who was working on finishing the booth construction knocked up a makeshift ramp out of a nearby discarded wooden pallet. In the end about twelve people forced the Batmobile backwards up the handmade ramp.
Three things went wrong. One, the handmade ramp collapsed due to sheer weight with only the back wheels up on the raised stand. Two, I was holding the back left fin of said car as the ramp gave way and a small part of it came off in my hand. Thirdly, as the car finally made it into position everyone stood back and we congratulated ourselves over a difficult job done well. (I mean, it could have been much worse really.)  Then the car fell through the floor!
It turned out that no-one had really told the Dutch construction crew that a very heavy prop car was going to be sitting in the middle of their wooden plywood and carpet stand. So there was no way it could have taken that much weight! The ever-so-slightly loud crash that echoed around the Hall got a lot of attention. We soon had a lot more people coming to help! In the end, the car was lifted and moved out of place. The floor was reinforced and repaired and by the end of the day no-one would have known what had happened. And all this excitement before the Show had ever opened. I won't say what happened to that broken piece of Batmobile fin though. And if someone discovered it glued on with Pritt-Stick the following week, then it was clearly nothing to do with me at all…
Strictly No Photography!
As I mentioned earlier, the car was a one-off and came with its' own 24h security. This was for insurance purposes apparently. No-one was supposed to get too close to it. The stand had been designed to prevent people being able to walk around it. You can see the banks of monitors doing that  in the photograph below. The cockpit was also closed shut – to prevent any old idiot trying to get it and also to stop anyone seeing how rubbish it looked inside.
After so much stress and struggle over the car, when the security guy wasn't looking I slid the top back,  jumped in and got our IT Manager Paul Fox to take my photo. As the new guy in the company, this was a strict no-no and I got a stern telling off seconds later from my Boss. So when she then turned her back, I took one of Paul and even 'Smaller' Paula from the overseas sales department managed to jump in as well.
It was all worth it in the end though because our stand was the talk of the Show.  In fact, here's a spectacularly low quality video I found on YouTube from German games magazine Power Play:
If you watch carefully, you'll see that their camera men didn't even film the Acclaim Entertainment stand at all, so our newly near-mint condition special movie prop Batmobile is nowhere to be seen. Obviously, two people play fighting with swords and Virgin Interactive's faux Cinema stand were much more important to be captured and immortalised forever on film. If you squint carefully, you can just about glimpse the massive Sony PlayStation stand which took up the entire far end of the first floor of the show!
E3 – Electronic Entertainment Expo
The E3 shows were much bigger, louder and glitzy than any of the European shows. And unlike shows like PAX East Boston, one hundred per cent corporate. The first one I went to was held in Atlanta. I don't remember too much of that show. For ALL of it I was hard at work, with back to back appointments for all three days. At that time I was meeting developers from around the world. They were pitching me their projects. The big games of that show were the first showing of "Half Life" on PC and the next game from Rare's "Goldeneye" team which was "Perfect Dark." None of which were ever going to be pitched to me.
Shows like E3 were like attending massive rock concerts. Hordes of people. Nowhere to sit. Nothing to eat or drink and noise, non stop noise from 8AM until sundown. I remember the Nintendo stand being a stones throw away from mine, but I never got time to venture over there. In fact the noise of the show was so loud it was hard to hear what anyone was saying. I went to sleep after the first day wondering why on Earth Rare had called their new FPS game "Perfect Dart?"
Celebrity Squares
The best E3 shows came a few years later when I was showing the "Burnout" games. Each one was special, but the first one we did with Electronic Arts for "Burnout 3:Takedown" was definitely a highlight. The game looked great and we were front and centre on the EA stand – the biggest, brightest, and loudest of the event. That game showed spectacularly well and it was an easy sell to the gaming media. EA had close ties to a lot of celebrities so you'd suddenly find yourself demoing your game to Robin Williams, Steven Spielberg or any of the big name NFL players. The thing there was that none of knew anything about American football, so we didn't recognise any of them!
Here's some footage from that E3. It was actually filmed by me. So thanks to the person who copied it from my Vimeo site and posted it helpfully on YouTube. I knew I'd need it one day!
Out of Control
Those shows were exhausting to work at, but none of them really had the act of playing games at their heart. They were trade only affairs, so you'd go there to show your game to the buyers of all the retail chains from around the world. Only the specialist Press journalists would want to actually hold the controller and play your game. The rest were there just to watch. Handing someone a game controller usually garnered a strange physical reaction. It would usually be one of sheer embarrassment. No no, they would insist –  they didn't play. But their son or daughter did!
Luckily though, shows like PAX East Boston have turned this world around. E3 is now a public show. The big European show, Gamescom, is a public show. It's not about the suits anymore, and most of the retailers have closed down. So gaming conventions are really back to where they started. They really are for the players! Let's take a moment to celebrate that shall we?
Here's a quick video from IGN that shows a lot of people dressing up at PAX East Boston 2019:
Dressing Up
Costume play started at Japanese shows like Tokyo Game Show and have now spread around the world. I was lucky enough to go to many TGS at the turn of the millenium. Interestingly, all the cosplayers had to stand outside in the freezing cold. There was a small concrete area between each massive exhibition Hall. You'd see a lot of scantily dressed teenage girls in various costumes, and large queues of older men lining up with huge professional camera gear with paparazzi style telephoto lenses. The performers in their home made costumes had to stand outside because of strict rules laid down by the Japanese publishers. It was OK to have Sonic The Hedgehog inside the exhibition hall, but apparently not OK to see Sonic having a fight with someone dressed as Princess Peach or smoking a cigarette! Luckily though, big fan shows like PAX East encourage cosplay which is why it's so popular over the four days of the event.
Megabooth Heroes
For PAX East Boston 2019 we were lucky enough to take advantage of a last minute opportunity with the brilliant folks who organise the Indie Megabooth. This group works hard to create access to big events for independent games developers. The timing worked out for us as we'd pretty much completed development on "Dangerous Driving." It's never easy to show an in-development game at a trade show, let alone a public show. But for us, I was able to fly out from the UK with a Xbox One X in my bag and the complete game sitting on the HDD.
PAX East Boston is a very very different style of show. It's definitely nothing like E3, not like GDC, and nothing whatsoever like the old ECTS. It reminded me much more of the first UK game shows such as the PCW Show in 1987 or the Commodore or Atari User shows. It feels much more authentic and despite the dominance of the big format holders and the arrival of tech firms like Facebook on the show floor in Boston it remains a much wilder and crazy experience.
Destination: Boston Games Convention
This year though I won't be alone. Paul, Phil and Simon from TFE are all flying out to Boston to work the show with me. Last year was very challenging. There's a reason why virtually no-one even attempts to work a show like PAX East Boston alone. And it's a four day show, compared to the lightweight gruelling three day E3 shows of old.
Championship Vinyl
Last year it was just me going out with a single console in my carry on luggage. Our US-based publicist Tara Bruno travelled up to Boston from New York by train. She is a PAX veteran and I was so glad she was there is no way I would have survived without her and her team. The event is held at a massive exhibition place at a Seaport close to Downtown Boston. Our first stop was to collect our exhibitor badges. Our second stop was at the on-site FedEx office where Tara had arranged to get a huge vinyl print of the "Dangerous Driving" logo done in advance. It was big. It was expensive. And very very heavy.
Big heavy sign in tow, we went to find our exhibition space so we went down the big escalators and into  the PAX East exhibition Hall. We walked past hives of people hurriedly setting up displays, neon signs, consoles and controllers. These were the big stands for Sony, Microsoft, Nintendo, Facebook and some Asian PC companies I wasn't familiar with. This was definitely the calm before the storm.
Federal Green
Our small stand was just opposite the mighty Facebook stand and just inside the entrance to the Indie Megabooth. Now here's the inside story about what it really costs everyone attending such a show. You have to pay to rent the stand space. We were fortunate, we were getting ours at a discount owing to someone else pulling out of exhibiting at the last minute. You get a table and a single chair. Everything on top of that costs money.  Want a waste bin? That costs. Want carpet? Yes, that too. Was some underlay to go underneath that carpet? Yep, that's an extra as well. Need a TV? Yes we did as it was too big to bring with me on the plane. Plus, the power voltage is different over there.
Standing On Our Own Two Feet
We rented the biggest display we could get – which was a 4K 55 inch LCD Panel. And yes, we paid for carpet underlay too as we knew we'd be standing up for eight hours a day over the next four days. All we had was the barest of bare essentials. A big TV, an Xbox One X and a controller. It would be really easy to spend more – signs, leaflets, merchandise but I figured that the game would either draw a crowd or it wouldn't. People come to see a new game. And we had a new game so that was that. If you want a comfy sofa, they were seven or eight hundred bucks on top. And accessing some very slow internet for the following four days was also out of our budget.
Construction Time Again
Our first task was to hang the enormous vinyl banner Tara had organised. That formed the backdrop to the space. There were two of us. It was heavy. We had once chair and some bungee cords. All the people working at Show were Union so they were forbidden to help us. Cue much merriment as we went back and forth trying to keep the thing tied on and level whilst balancing on a wobbly plastic chair. But once it was up it stayed up – just.
The folks at Epic also help out indie developers in a big way. For any Unreal Engine powered game at PAX East Boston, Epic provided free pop-up signage for the booth. That was a key tool in guiding people into the Indie Megabooth and finding our game! Things like that are really appreciated by small developers like us! Epic do get a lot of stick sometimes, but they have been consistently amazing to us on every game we've made.
Our TV arrived shortly afterwards and after a quick test we were good to go. So we did. To the bar in the adjacent Hotel. I think we were one of the first people to finish setup and be able to leave the Hall, now slowly filling with stressed exhibitors and littered with empty pallets and packing materials.
Marathon Effort
At this point, I'd love to be linking to the many brilliant videos I filmed at the show, or a link to a Gallery of the many hundreds of pictures I took. But guess what? It was so much full on non stop hard work. I barely took any! The Show was very rammed and very exhausting. There were only two of us working the Show, which meant it wasn't easy to get any breaks at all. It was a 20 minute walk to try and find a bathroom. There was no way to get something to eat or drink. It was non stop game demonstration.
Tara managed to get coffee delivered by simply asking on Twitter "Hey I'm dying here at PAX East! Can someone bring me a cappucino to Stand XYZ?"
Ten minutes later a total stranger turned up with her coffee. "Are you Tara?" and handed it over. And like that, he was gone. Totally bonkers stuff!
We didn't have the biggest stand in Boston. Facebook did. We didn't have a glitzy stand. Pretty much everyone else did. But we did OK. People sat and played the game from the moment we opened until the moment we collapsed at the end. The standard demo was Canyon Short in the Tuned Sedan. It was about a three to four minute play time and that wasn't ideal. Plus we only have one pod. And an Xbox controller. Some players even  refused to play because they didn't want to use the Xbox pad – that was a new one on us.
Overall PAX East Boston was a really positive experience. I met a lot of genuine race fans who had played all of the games I'd directed throughout my career. Some had come just to say hello, and brought copies of different games for me to sign. I tried to shake everyone's hand and talk to anyone who wanted to talk. I didn't lose my voice but my feet really did hurt at the end of every day.
PAX was a very very different experience to any other game event I'd been to. Both small scale and intimate but also massive and daunting. It was stupid to go alone. I had Tara with me for the first two days and then was joined by Tom Green, a former movie PR who works for her. Going alone made everything harder and ultimately made me ill for the final day of the show.
When Steve Groll from SCEA emerged through the crowd bringing me a bottle of water, a cup of hot water, milk and sugar – so I could make a tea – and have something to eat I could have cried! That was so kind of him. He'd walked past and realised we were slammed. So he went to get us food and drink and stood in line for 30mins as well! Steve if you're reading – thanks again because you really saved me that day! (Steve was our West Coast PR for "Burnout 3 Takedown" when we both worked at EA.) Tara and Tom literally saved the whole show for us and without them we would have never have attended.
So that's it – we're heading to PAX East Boston next month. If you're going, come and find us. We'll post details of our stand number here as soon as we have it.
I can safely guarantee that we'll have no Batmobile-like prop gimmicks on hand, probably no cosplay, but we might have some exclusive merchandise and something surprising to show you of our new game.  Bonus Points will be awarded if you bring us sweets, coffee and paper cups of boiling water with you as well. We'll be trapped inside PAX Boston for four straight days, so please spare a thought and help keep us going! Because taking a break from all our worries sure would help a lot!
As we're all going to PAX East Boston, this blog piece has to finish with this:
To be sure you never miss any of our news why not sign up for our Dangerous Driving Club. Admission is free and you could win one of our games in our monthly prize draw.