PAX 2020 has now been and gone. So, what happened to us, and did we manage to survive?
Welcome to the first in a series of blog posts being written under lockdown. It's officially Day Two of a three week wide national lockdown here in the United Kingdom. It's our third week we are all working at home. We've had months of rain here in England. Spring is just around the corner. The sun is shining – yet all of us have to stay indoors at home.
I thought I'd begin by updating you all about what happened to us just before the whole world changed. It's taken me time to be able to do so. Attending PAX 2020 over in Boston was so overwhelming. It was exhausting, both physically and mentally. It was only a few weeks ago but really, it feels like a lifetime away. Apologies for the lack of amazing tales to tell and photos and vids to share. At an event like that those things are a total after thought. We were flat out busy for the whole time.
Last year I went to PAX 2019 alone. It was last minute thing for us. As independent developers, going to do Shows takes a lot of effort. It's completely understandable that a lot of small teams would rather stay home and focus 100% of making the best game that they can make. No-one will ever remember what you did at a Show. They will just remember your game. It's as simple as that.
In March 2019 we'd finished development on "Dangerous Driving." Our New York based publicist Tara called us with a last minute PAX opportunity. Another developer had dropped out. We were offered space on the 'indie mega booth.' So we said yes and I volunteered to fly over.
Little did I know what I was letting myself in for.
Upon arrival at my hotel I collected a couriered package containing the first three copies of the game direct from the pressing plant. On the Show floor we had a small booth and a big TV. I flew out with an Xbox One X development kit. The budget was tight. It was just me and Tara for the full four days.
For the Pax 2020 Show we weren't taking any chances. We decided that we'd try to go to as many Shows as we could during the development of "Dangerous Driving 2" – so that strategy would begin 2020 with PAX East  (Boston) and end with PAX West  (Seattle).
Due to the sudden onslaught of the coronavirus pandemic, the world has since changed. Many of the Shows we were looking forward to are currently cancelled. Just like all of you, we're taking things day by day and week by week. As soon as things return to normal, we'll be back out there, showing the new game and meeting as many of you as possible.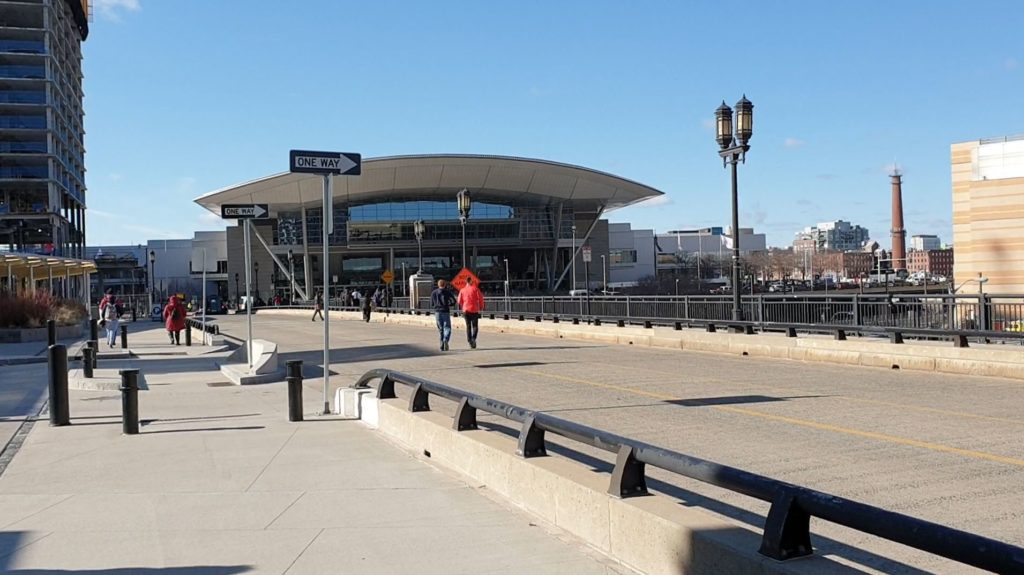 Phil and Paul flew out to PAX 2020 two days ahead of me. This time, they would be taking care of everything that needed to happen on 'setup day.' This time we had our own exhibition booth. It was a good location on the right hand side of the show floor, nestled among some of the biggest firms in gaming.
Showing a game to the public when it's still really early in development is never easy to do. Everything is a work in progress. The visuals aren't done, the audio isn't done.  But we figured we'd take the risk and give people the chance to have an early peek at the software.
Simes made up some dummy packaging to use as props on the booth.
(We soon lost count of the number of people coming up to BUY the game from us there and then. )
It was decided we'd to give the briefest playable glimpse of we could show of the new game. We worked for four days putting together a simple Race featuring the new Muscle Class vehicles.
Unlike 2019's mammoth five minute three lap Desert Race, we limited this one to be a quick minute and a half. The game was running on PC – and we were renting both the PC and big TV from one of the official Show vendors.
We set ourselves three main goals for PAX 2020. One was to announce the game and let people know that it was coming. The second was to show off 2P split screen racing for the first time. The third goal was to show the game running on the handheld Nintendo Switch.
It was a sunny morning as I walked my dogs then packed my suitcase, said my goodbyes and left for London's Heathrow Airport. The news was full of the events in China. After parking my car in Terminal 5's POD car park I headed over to the terminal itself. Outside I witnessed my first group of people putting surgical masks over their faces.
After clearing Security I went to meet up with Simon Phipps who was eating lunch in one of the airside restaurants. We were both there at noon for a three o'clock flight to Boston. Everything was going well and after killing some time in one of the airport lounges we headed off the gate. With less than thirty minutes to go, our PAX 2020 flight was cancelled.
The orderly queue for the departure gate soon disintegrated. Several hundred mobile phones pinged simultaneously with the news. The airline asked all of us rebook onto a later flight. Not a good start. After a bit of faffing everything was back on. However our delay of around three and a bit hours conspired to make a long day for us even longer.
Arriving in Boston much much later than planned I reached the hotel just after 2AM UK time. I bumped into Paul and Phil in the lobby. They told me about their very long day in the exhibition centre. Last year I completed setup in under three hours. This year they had been there for around nine and a half hours.
They had encountered many problems with the rented PC. Plus, the TV that arrived wasn't the 4K spec that we had ordered either. Looking back, these all sound like trivial things to sort out. But when you're stranded in an unfamilar place it's all just added stress.
Every time Phil went to install the game files were getting deleted as quickly as he started. It took a long long time and a lot of waiting around for the right people to assist before the problem could get resolved. Nothing computer related is easy when you are relying on a shared wifi connection with several hundred other users.
After very little sleep myself it was soon time to start the first day of PAX 2020  itself. The guys set off ahead of me. I ventured outside into the freezing weather – it was minus 7 with a bitterly cold wind, and went to a nearby pharmacy to pick up supplies. It takes a bit of time to actually enter the PAX 2020 venue and there can be long lines to go through the airport style security. So once you're in, you tend to be in there for a long time.
Learning from last year I bought and carried in as much gum, mints, sweets and water as I could physically carry. It's already a very long day of standing up as it is. Trying to do that and be hungry, dehydrated and trying to smile through it really does take its toll.
For the booth this year we decided to try doing things differently. Rather than spent a lot of money getting a huge banner printed we decided to try doing our version of a 'zero waste booth.'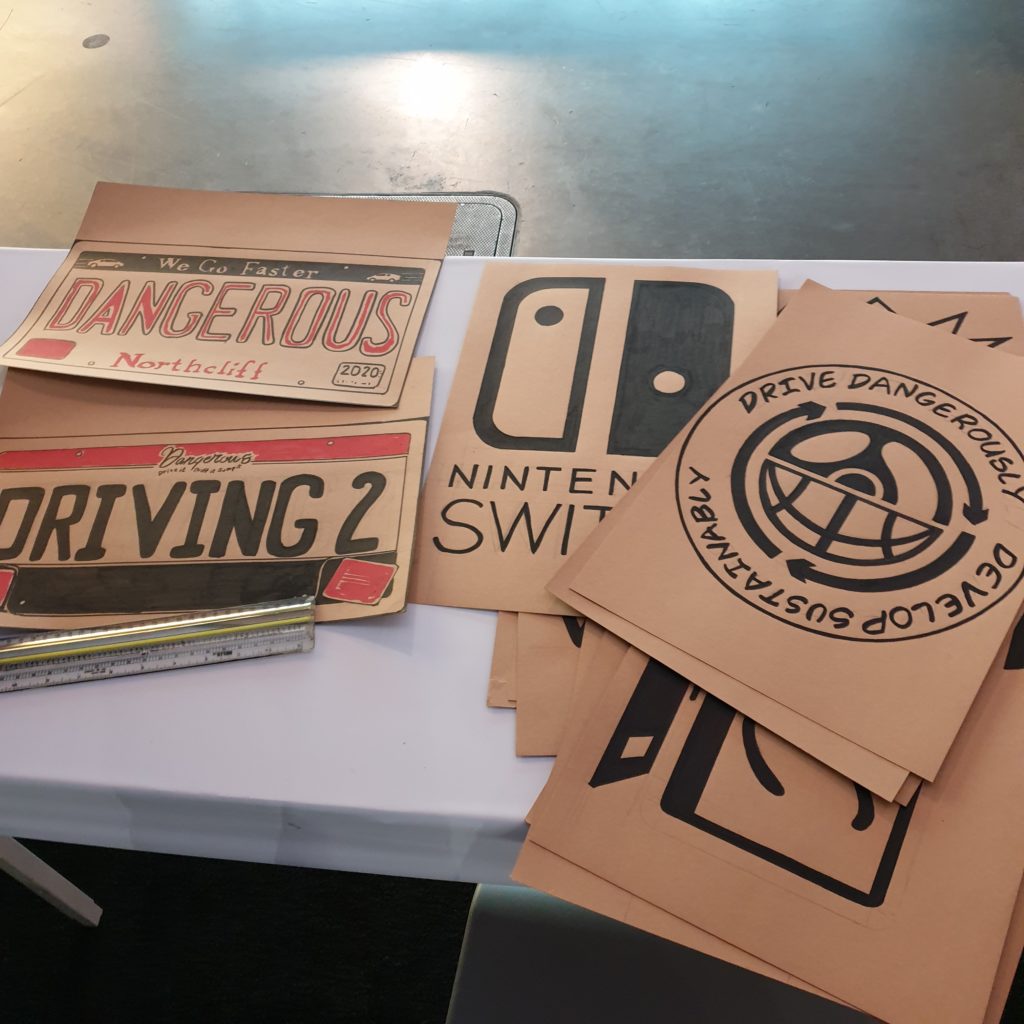 Simes brought with him a load of art supplies. The idea was that over the course of the show Simon would create artwork live and then hang them up to decorate the backing to the booth. We thought this was a chance for people to actually see a professional game Artist at work and also a unique way for our booth to stand out from the crowd.
These Shows cost a lot – not just in financial terms but also in terms of actual physical resources. We decided that it didn't make sense to print a huge banner and then be unable to give it away afterwards. The one last year was big and really heavy to manhandle around. Instead we found a ton of cardboard a few feet from our stand and used that for the next four days.
We weren't the only ones doing the Show as cheaply as possible. Our neighbours from the brilliant Casa Rara Studio were doing an early look at their title. They had decorated the entire PAX booth for a sum total of forty dollars! They had way more paper streamers than us, a lot of candy, and often more visitors!
It was our PAX version of Pink Floyd's "The Wall" live show from back in 1980. Over the course of the Show, Simon was going to 'build' our version of 'The Wall." At the end of the event, it would be time to 'tear down The Wall' and either give it away or drop it into the recycling bin and walk away.
Unsurprisingly PAX 2020 was very, very busy. The threat of the virus did little to turn people away. Tickets had sold out from the start. Nothing was going to keep people away from a huge hall fall of the latest games. From the off we were swamped with people wanting to play the game and talk to us. None of rarely had a spare moment to ourselves. We did our best to avoid shaking too many hands, and had a huge supply of cleaning supplies to wipe down our DualShock controllers after each play session.
Bizarrely, I recognised many of the faces of people who came to see us. Many returning players from last year. 2P split screen was also a huge win for us. Our booth was located right next to the Discord booth and alongside the Seagate booth. We had a very steady stream of traffic throughout the four days. Having four of us there really made things that little bit easier. Tara Bruno had organised a manageable scheduled of both games Media and social media influencers peppered at regular intervals for the first three days as well.
I have worked a lot of different game Shows throughout my 25 year career and they each pose their own set of challenges. Somehow if you don't finish up totally exhausted from it all and on the verge of losing your voice, then you haven't been working hard enough.
Thing is, none of us are in our youthful good looking Twenties any more.
Here are my PAX 2020 highlights:
1.) Meeting many of the same players who came to find us this year. Thanks to all of you. Thanks for telling us again where all the 'good food trucks' were parked. Second year running, and we still never found them.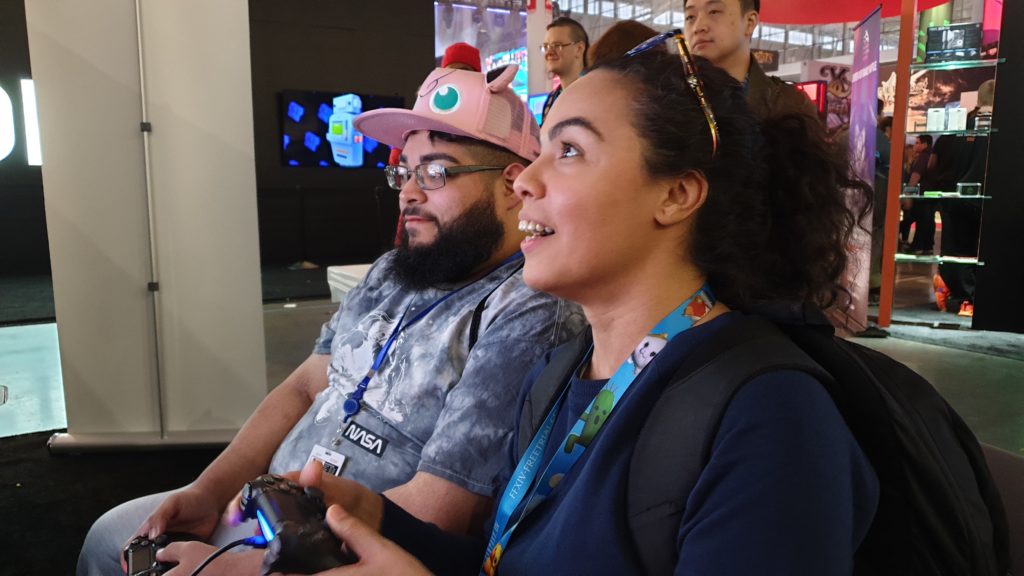 2.) Watching all the parents come and sit down to play with their kids. Some were quite young and some were quite old. It reminded all of us that a lot of people do really enjoy gaming primarily as a shared activity with their family and friends. Two people sitting down for a bit of friendly racing competition around the same machine. It was fun to chat to all the Mums and Dads and learn more about a variety of gaming habits.
3.) Meeting Mrs Amy Fields (@amyf726) and her two sons. They came to play and to tell us that in fact, THEY were 'actual three Fields in person. I took their picture and shared it on our Twitter account. You can see that by clicking HERE. That really did make my day!
4.) Seeing how many Switch owners are out there waiting for a game like ours. It was a really really early version to show. Ben Smith did an amazing job getting the game built and showable in such a short space of time.
5.) Catching up with the brilliant Andrea Rene again and her crew from "What's Good Games." Just as the batteries died on our second Show Switch, they stepped in with a much needed US power supply. They gave it to us for the duration of the Show. That really did save us on Day One and we can't thank them enough! Brilliant stuff!
6.) Meeting up again with our old friend @HipHopGamer Logitech G (#1 Gaming Personality) from New York's Hot 97 FM. Easily the most friendly and enthusiastic member of the gaming Media ever. A total delight to be with. He lifted everybody's spirits. Not just us but everyone around us too! If the rest of the games media could be like him, it would make everything a lot more fun, believe me. Simon drew his portrait whilst he stuck around. He played 2P with a lot of people, talked to Phil about Switch, and talked hip hop with Paul. Totally brilliant and genuinely funny.
7.) The Three Fields crew of Paul, Phil and Simon. Huge team effort and they did an amazing job. Flat out for four long days and not a word of complaint. As well as non stop game demos and media presentation, they also took as many sign ups to the Dangerous Driving Club as they could, and added follower to our Twitter, Instagram and Snapchat accounts.
8.) Seeing all the people who had made the effort to dress up and cosplay as their favourite gaming characters. We did our best to try and identify as many as we could. Special mention goes to the couple who came dressed as 'the coronavirus cells." One was red and one was white. I'm glad they told us as we'd have had no idea otherwise!
9.) Talking about the films of Norman Wisdom with the breakfast waiters at our hotel. They were all from Tirana, Albania. His films were shown repeatedly on the state controlled television station. This was back in the days of the Iron Curtain of course. It was little moment of home in a faraway place.
10.) The feeling you get when you realise it's time to leave the Show and come home. It's a great event but it really is a great relief when it's all over. Three days would be just about do-able. Four days is like doing back to back marathons.
Thanks once again to all the East Coasters who travelled up to the Show and came to spend some time with us. We were tired. We were hungry. We were jet lagged. Our feet hurt a lot too. But we did enjoy meeting each and every one of you and hearing your stories. See you next year perhaps?